Delivery & Shipping Information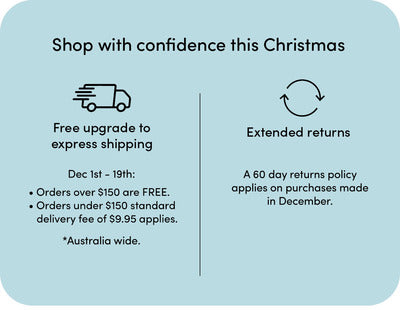 Australia
Standard
Free Standard Delivery for all orders $150 and over (excluding Gift cards)
A flat rate of $9.95 for all orders under $150
5-7 business days
Express
$4.95 for orders over $150
$14.95 for orders under $150
3-5 business days
Click & Collect
Add your favourite items to your cart
Proceed to checkout
Select the 'Pick up' option
Complete your order
Wait for your pick-up notification
Collect your order from our White & Co store
154 Waverley Rd, Malvern East Vic
New zealand
Free express shipping on NZ orders over $170 (NZD) (excluding Gift cards)
4-8 business days
$15 (NZD) standard shipping for orders below $170
8-12 business days
Dispatched from Australia
NZ taxes and duties are applicable on orders over $1000 (NZD)**
*Please note this is an estimate only and dependant on AUS and NZ Post shipping times.
**NZ taxes and duties are the sole responsibility of the customer and payable once their order arrives in NZ. For more information visit: www.customs.govt.nz
Us
Standard
Free on orders over $150 (USD) (excluding Gift cards)
$9.95 (USD) on orders below $150 (USD)
Approximately 6-10 business days
Express
$9.95 (USD) on orders over $150 (USD)
$19.95 (USD) on orders below $150 (USD)
Approximately 3-7 business days
Please Note:
All orders dispatched from Australia
Shipping timeframes are an estimate only and dependent on postage shipping times.
International
We ship to China, Hong Kong, Indonesia, Malaysia, Singapore, and the UK
We offer the Pack and Trace option via Australia Post. 
Flat rate of $25-$30 AUD applies
3-4 weeks
Please note we are not responsible for duties or taxes incurred once parcels arrive in your designated country.